We are open at Wellington Village!
Wellington Village is vigilantly monitoring COVID-19/Coronavirus situation and advice from national health authorities. We acknowledge the community concern about public health and safety at this time.
As per the ongoing advice of the National Cabinet of Australia, Australian Prime Minister and Victorian State Premier, Wellington Village is meticulously following all advice, innovating, and updating changes where needed every day.
The health, safety, and well-being of every one of our staff, visitors, and retailers is our main priority – while we continue to manage the businesses in our centre that are regarded as essential services. Wellington Village houses retailers that will continue to be considered  as essential services as we make our way through the various stages of this pandemic. We are committed to providing this community with access to medical services, essential retail, take away food, and groceries and fresh food in a safe and healthy way.
Wellington Village and all of it's retailers are taking the following steps to ensure that we do our part to limit the spread of COVID-19:
'Touch free' sanitisers at each toilet block, and in each retailers point of sale, and common areas.

Additional hygiene cleaning throughout the day of communal areas, including door handles, common surfaces, handrails, trolleys.

Posters and social media communication about COVID-19 awareness and the Australian Government's 'Simple steps to help stop the spread' guidelines.

Wellington Village has a launched a 'social distancing' campaign with it's retailers and in posters around the premises.

All inside dining has ceased and moved to a take away or delivery only scheme where applicable.

Our gym and fitness retailers have closed.

"In car waiting rooms" are being encouraged for our health care providers.

Any roles that can be performed from home have been relocated to reduce capacity numbers at the centre.
Update on retailers
Following the recent government announcements of further restrictions to trade, please be advised most of our restaurants and cafés are still open for takeaway and food delivery services.
Additional restrictions have been placed on hairdressers and beauty salons – where they are able, our retailers have made modifications to stay open. Where this has not been possible they have suspended trade temporarily. Our gym and fitness retailers have ceased trade temporarily.
Please refer to our Latest News page where there is a recent post COVID-19 Shop Trading Updates with specific information on each of our retailers current trading status.
Confidence when you visit
Members of the community should be confident to go about their day-to-day activities including shopping at their favourite shops at Wellington Village. As developments progress we will update our approach to ensure the health, safety and well-being of our customers, team members and communities.
While visiting the Wellington Village, please help us keep our community safe by following the below good hygiene practices:
Wash hands regularly, including after touching common surfaces and after coughing or sneezing. Utilise hand sanitiser stations.

If you happen to cough or sneeze, cover your mouth and nose with a tissue, then dispose of it, or if you do not have a tissue, cover your mouth and nose with your upper sleeve (into your elbow)

Practising social distancing, by ensuring you have 1.5 meters between yourself and other shoppers where possible. Do not crown in queues.

Do not come to the centre if you are under isolation guidelines, if you have knowingly been exposed to someone with COVID-19, or if you are unwell in nay way.
We will continue to keep you updated on a regular basis about how we are responding to COVID-19 through our social channels and website. And we thank you for your support.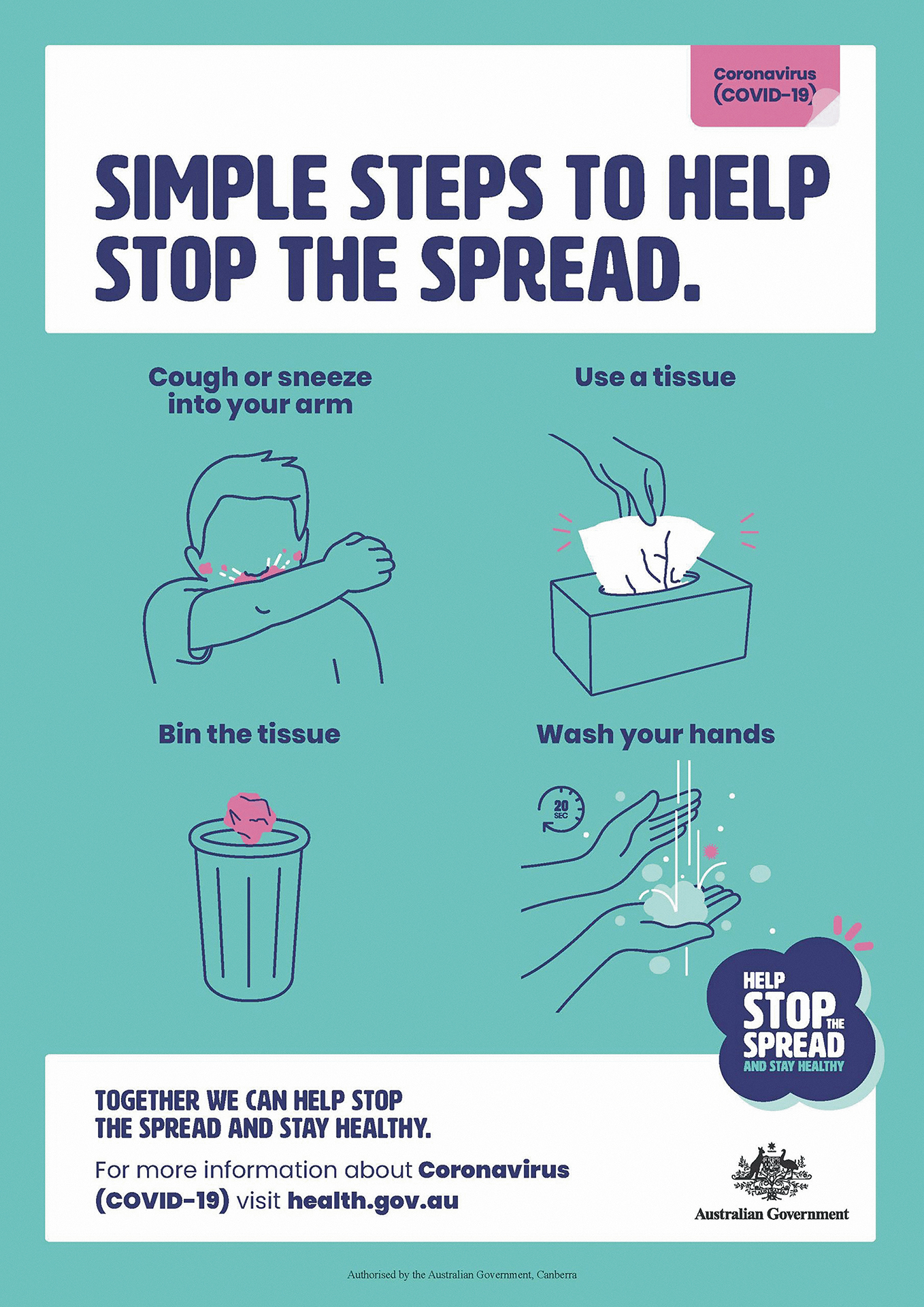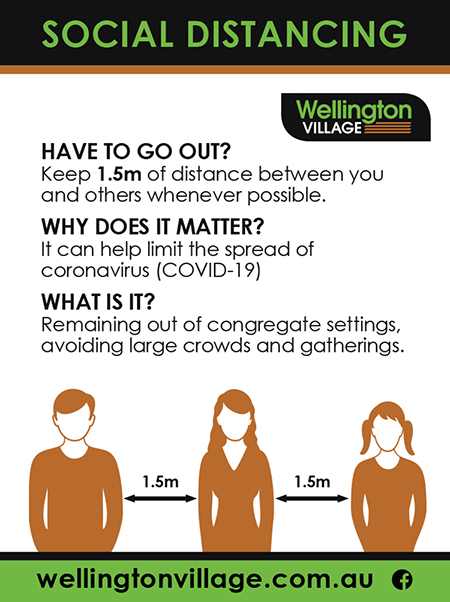 Resources :
https://www.pm.gov.au/media/national-cabinet-statement

https://www.health.gov.au/resources/collections/coronavirus-covid-19-campaign-resources
https://www.health.gov.au/sites/default/files/documents/2020/03/coronavirus-covid-19-information-on-social-distancing.pdf
https://www.health.gov.au/news/health-alerts/novel-coronavirus-2019-ncov-health-alert/coronavirus-covid-19-current-situation-and-case-numbers
https://www.dhhs.vic.gov.au/sites/default/files/documents/202003/2001628_COVID-19%20Self%20assessment%20for%20risk_A3_V15.pdf