We are open at Wellington Village!
Wellington Village is thrilled that as a country we've made some real progress in the fight against Coronavirus. We're still in the midst of a pandemic but are easing restrictions gradually.
This means the following advice is in place for patrons and staff of Wellington Village:
The Victorian Government has announced the gradual easing of restrictions throughout the state from 11:59pm Sunday 31 May 2020.
Restaurants, cafes and other hospitality businesses have been able to resume dine-in services following seating, hygiene and tracking restrictions.

Beauty therapy, tanning, waxing, nail salons, spas, tattoo parlours and massage parlours can now open with up to 20 patrons – the four square metre rule applies to the publicly accessible parts of the venue, and a distance of 1.5 metres should be maintained between customers.

Other retail outlets may continue to operate; the four square metre rule applies to customers, and a distance of 1.5 metres should be maintained between people who do not live in the same household

To keep yourself, and your friends and family safe there are three key actions that Victorians are being asked to continue as restrictions are eased:

Keep your distance – stay 1.5 metres away from others.

Practise good hygiene.

Stay at home if you are unwell.
For a full list and detailed breakdown of restrictions head to: https://www.dhhs.vic.gov.au/victorias-restriction-levels-covid-19
The health, safety, and well-being of every one of our staff, visitors, and retailers is our main priority and we are taking the following steps to ensure that we do our part to limit the spread of COVID-19:
'Touch free' sanitisers at each toilet block, and in each retailers point of sale, and common areas.

Additional hygiene cleaning throughout the day of communal areas, including door handles, common surfaces, handrails, trolleys.

Posters and social media communication about COVID-19 awareness and the Australian Government's 'Simple steps to help stop the spread' guidelines.

Wellington Village has a launched a 'social distancing' campaign with it's retailers and in posters around the premises.

All of our cafe and restaurants are following strict distancing, seating limitations and cleaning procedures in accordance with state and federal regulations.

Our gym and fitness retailers have closed.

"In car waiting rooms" are being encouraged for our health care providers.

Any roles that can be performed from home have been relocated to reduce capacity numbers at the centre.
Update on retailers
Please refer to our Latest News page where there is a recent post COVID-19 Shop Trading Updates with specific information on each of our retailers current trading status.
Confidence when you visit
Members of the community should be confident to go about their day-to-day activities including shopping at their favourite shops at Wellington Village. As developments progress we will update our approach to ensure the health, safety and well-being of our customers, team members and communities.
While visiting the Wellington Village, please help us keep our community safe by following the below good hygiene practices:

Wash hands regularly, including after touching common surfaces and after coughing or sneezing. Utilise hand sanitiser stations.

If you happen to cough or sneeze, cover your mouth and nose with a tissue, then dispose of it, or if you do not have a tissue, cover your mouth and nose with your upper sleeve (into your elbow)

Practising social distancing, by ensuring you have 1.5 meters between yourself and other shoppers where possible. Do not crown in queues.


Do not come to the centre if you are under isolation guidelines, if you have knowingly been exposed to someone with COVID-19, or if you are unwell in nay way.
We will continue to keep you updated on a regular basis about how we are responding to COVID-19 through our social channels and website. And we thank you for your support.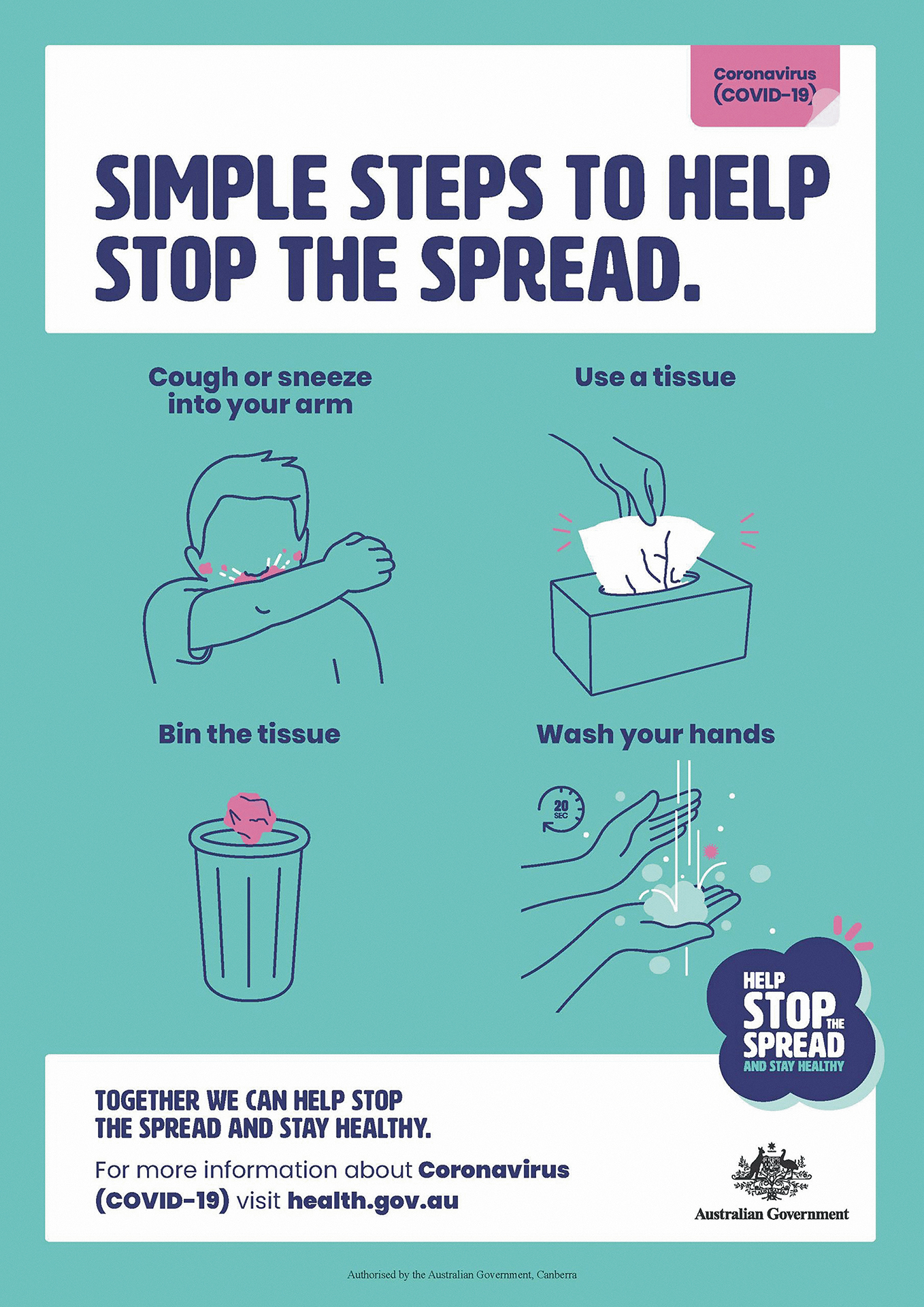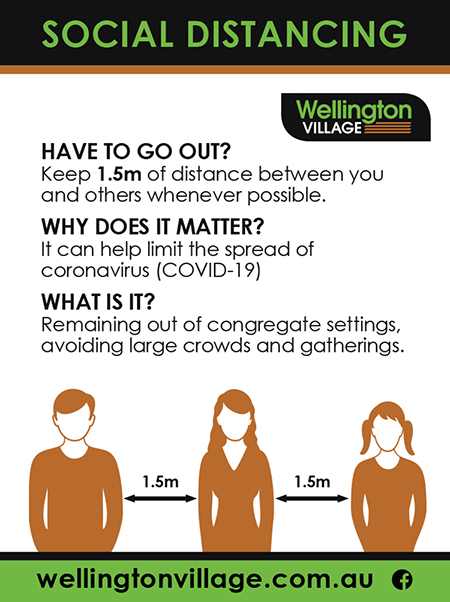 Resources :
https://www.pm.gov.au/media/national-cabinet-statement

https://www.health.gov.au/resources/collections/coronavirus-covid-19-campaign-resources
https://www.health.gov.au/sites/default/files/documents/2020/03/coronavirus-covid-19-information-on-social-distancing.pdf
https://www.health.gov.au/news/health-alerts/novel-coronavirus-2019-ncov-health-alert/coronavirus-covid-19-current-situation-and-case-numbers
https://www.dhhs.vic.gov.au/sites/default/files/documents/202003/2001628_COVID-19%20Self%20assessment%20for%20risk_A3_V15.pdf