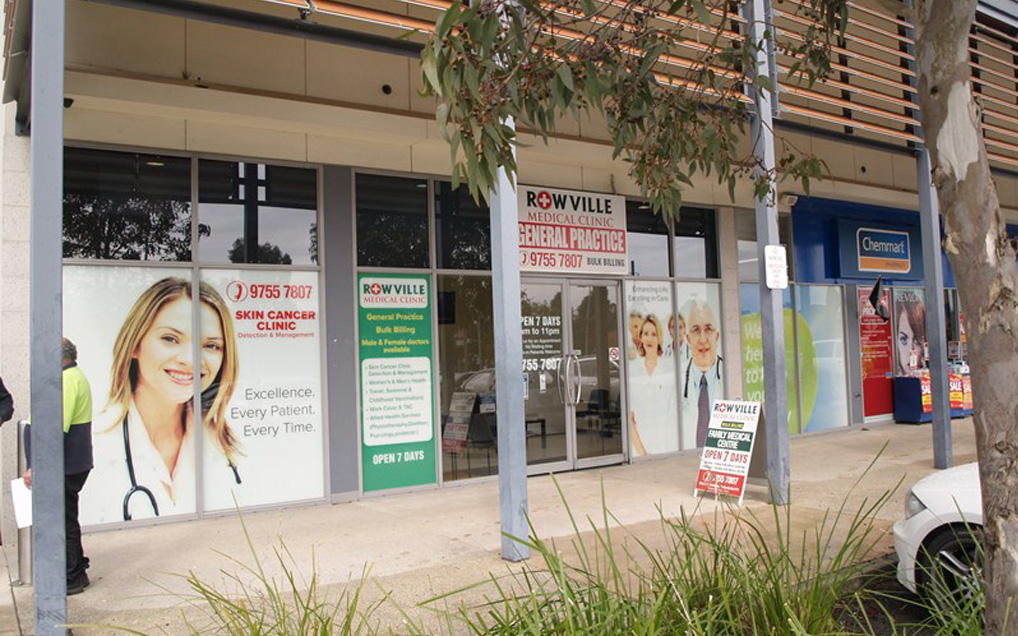 The Rowville Medical Clinic (Qualitas Health General Practice) is conveniently located within the Health Hub of the Wellington Village Shopping Centre at 1100 Wellington Road, Rowville.
Rowville is located 27km south east of the Melbourne CBD and is governed by Knox City Council. Rowville has over 34 thousand residents and its name is derived from the early residents, the Row family, who had established a farm in the area in 1882.
The Rowville Medical Clinic opened its doors three years ago with the vision of providing a family based medical centre focussed on personalised and timely care. We are proud to have a passionate and highly qualified team of doctors who endeavour to take holistic care of their patients. Our doctors have extensive experience in treating all conditions encountered in General Practice while also having special interests in areas such as Skin Health, Women's Health and Sports Medicine.
We are very proud to maintain a fully bulk billed, high-quality medical service with experienced doctors, nurses, allied health practitioners as well as onsite pathology. We are fortunate to have a cardiologist (heart specialist) and psychologist visiting our clinic to help our patients with these conditions. We have doctors and nurses who speak multiple languages. These include Sinhalese, Tamil, Hindi, Urdu & Bengali.
OUR SERVICES
Women's Health (including pap smears, family planning and antenatal shared care)
Men's Health
Children's Health (including childhood vaccinations)
Health / Medical Assessments (including 45yr+, 75yr+)
Immunisation and Vaccinations
COVID-19 Immunisations
Work Cover
Travel Medicine
Minor Procedures
GP Management/Team Care Plans
Asthma Action Plans
Medications Reviews
Mental Health Care
RTA / Insurance Medicals
Preventative Health Advice and Education
Skin Cancer Checks
Diabetes Management
Quit Smoking Advice
The Team: Dr. Vanathy Varathan MBBS, MD (Dermatologist) FRACGP; Dr. Mihiri Karunanayake MBBS; Dr Sudesh Ahangamgoda MBBS, FRACGP; Dr Thanuja Pathiranage MBBS; Dr Varuni Bandarage MBBS FRACGP; Dr (Shan) Varathan Sanmuganathan  MBBS, FRACGP; Dr Thushari Weerakoon MBBS, FRACGP; Dr Yasar Abbas MBBS, FRACGP; Dr Peter Shu-Hua Li MBBS, FRACGP; Dr Ramesh Banduwarden MD, FRACGP; Dr Abdul Masud MBBS, FRACGP; Dr Suranji Perera MBBS, FRACGP.
Telehealth Available
Bulk Billing Practice